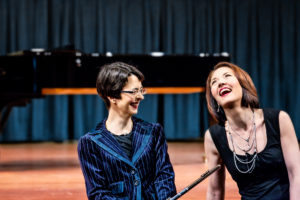 Elizabeth McNutt and Shannon Wettstein formed the Calliope Duo almost two decades ago. Over the years the duo has survived ice storms, tornadoes, and cross-country moves. In their collaborations as the Calliope Duo and in their highly acclaimed solo performances, Dr. McNutt and Dr. Wettstein present the most original, innovative, and excellent newly composed music. The Calliope Duo's programs focus on works from the last fifty years, but occasionally incorporate innovative older repertoire for contrast and a fresh perspective. Through collaborations with composers and outreach to audiences, the Calliope Duo works to build the concert repertoire and audiences of the future. The name "Calliope" refers to an innovative American hybrid of flute and piano, a keyboard instrument that plays a rank of steam-driven pipes. "Calliope" is also the name of the Greek muse of eloquence and epic poetry, an embodiment of the duo's mission to convey ideas of heroic intensity with beauty and grace.
The Calliope Duo has presented guest artist residencies at the Festival for New American Music, the Walden School, and universities including CU Boulder, California State University, UW Eau Claire, and others. Their projects have been supported by grants from the American Composers Forum and the Brannen-Cooper Fund. The members of Calliope are also dedicated teachers. Dr. Wettstein is on the faculty at St. Cloud State University; Dr. McNutt is on faculty at the University of North Texas. Projects this season include recording Franco Donatoni's Fili and Sollberger's Soli e Scherzi, performing at the National Flute Association Convention, and joining the faculty of the Nirmita Composers Workshop in Bangkok, Thailand.
In addition to their work as a duo, the members of Calliope are avid solo performers as well, having been featured in such venues as the Los Angeles Philharmonic Green Umbrella series, Boston's Gardner Museum and Jordan Hall, and festivals at Aspen (CO), Scotia (Canada), Darmstadt (Germany), Yellow Barn (VT), Sandpoint (ID), Norfolk (CT), Arcosanti (AZ), and June in Buffalo (NY). Dr. McNutt's CD of music for solo flute and electronics, pipe wrench, is on the Electronic Music Foundation Media label; Dr. Wettstein's solo piano album is available on the Centaur label.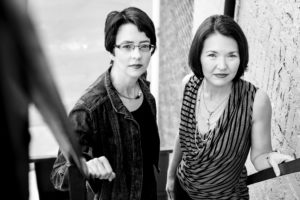 Visit the audio page of this site for samples of the duo's playing.